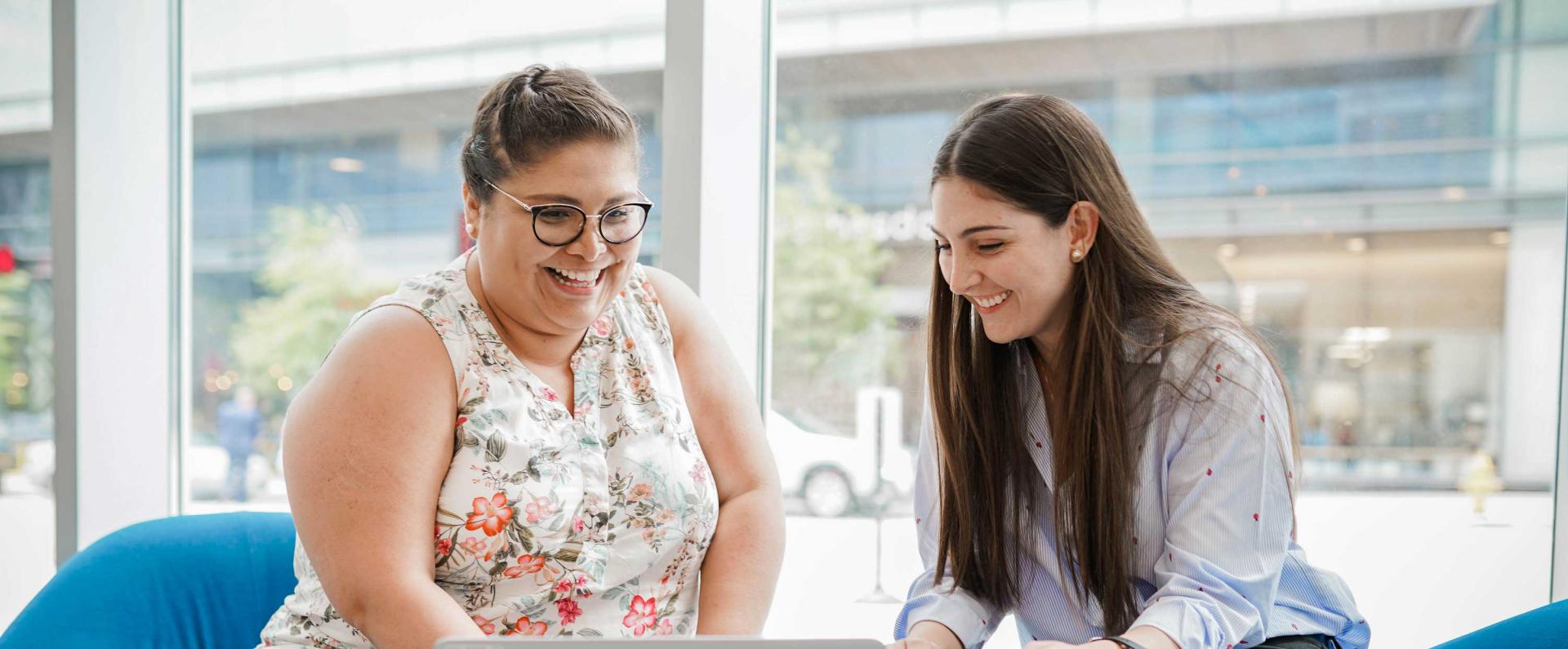 Accelerate Your Career at Nestlé
Define your purpose, explore your dreams, launch your tomorrow
Our goal of growing global impact and leadership requires a focus on helping people of all ages gain work experience and strengthen their professional development skills beyond the classroom. All of our operating companies have several programs designed to provide enriching, professional experiences for students and recent graduates.
Internships
Opportunities for current undergraduate and graduate students that combine technical education with applied work experience in a specific career field.
Management Development Programs
Opportunities to develop essential leadership skills within key disciplines through comprehensive rotational, interactive, and strategically integrated roles.
Apprenticeship Programs
Opportunities to develop your career in manufacturing through a combination of on-the-job training and coursework-based learning
Internships
A summer of opportunity
As an intern, you'll combine technical education with applied work experience in your chosen career field. You'll take on impactful real-world projects, build your presentation skills, strengthen your analytical and leadership abilities, and meet other students from across the country.
Bring everything you've learned in the classroom into the real world with an immersive internship experience. Contribute to actual Nestlé USA projects, learn from accomplished mentors, and gain food industry knowledge that you can call upon for years to come.
The ideal candidate:
Students who are eager to take on complex challenges and demonstrate tenacity and perseverance. Real world problem solvers with a willingness to roll up their sleeves and get the job done.
Rising sophomores or juniors currently pursuing an undergraduate degree, or, currently enrolled as a first year MBA student.
Able to work 10 – 12 weeks consistently across the duration of the summer.
Openness to relocate to headquarter, field, or manufacturing facilities across the United States.
Opportunities in:
Finance
Sales
Marketing (Available to MBA First Years)
Legal (Available to 1L)
Sensory*
Human Resources**
*Nestlé Health Science program
**Gerber program
You'll do with us what you simply can't experience in the classroom.
As an intern, you'll spend an immersive 12 weeks contributing to real projects and making an impact with a premier global manufacturer of pet products. If your full potential could be unleashed, what would you add to the mix?
The ideal candidate:
Enrolled in a full-time undergraduate or graduate program in a related field of study
Able to work 12 consecutive weeks during the summer
Opportunities in:
The ideal candidate:
Currently enrolled in a 4-year BA/BS program at an accredited college
Has authorization to work in the US
Available to complete an 11-week program
Strong Interpersonal and organizational skills with the ability to navigate an ambiguous environment
Professional goals aligned with Nestlé Nespresso core values and objectives
Strong analytical and problem solving skills
Opportunities in:
Marketing/PR
Retail Operations
Finance
HR
TQM
Supply Chain
IT
Management Development Programs
An immersive rotational experience
As a participant, you will train through a rotational style program in your assigned learning hub. Upon successful completion you will be deployed into a leadership position with one of our operating companies. Willingness to relocate within the United States is required of all Leadership Development Program participants.
Accelerate your career with an opportunity to elevate your skills and knowledge. Learn what it takes to be a member of our management team. Thrive within a rotational program that will make the most of your ideas and initiative as you create the career you've always wanted.
The ideal candidate:
Students who are eager to take on complex challenges and demonstrate tenacity and perseverance. Real world problem solvers with a willingness to roll up their sleeves and get the job done
Self-disrupting and seeks out opportunities to drive change within the organization through creative solutions
Successful completion of an undergraduate degree by the start of the program
Openness to relocate to headquarter, field, or manufacturing facilities across the United States
Our Management Development Associate positions are designed to accelerate you to management in manufacturing—the heartbeat of our business. You'll have a tailored to you experience to learn the end-to-end operations of our factories while developing essential leadership skills within your discipline.
The ideal candidate:
Is open to relocation to one or more of our 21 facilities across the U.S.
Will have attained a bachelor's degree in a related field of study prior to starting the program
Apprenticeship Programs
A skill-building opportunity
Earn as you learn as a Nestlé apprentice. Our Apprenticeship Programs are a combination of paid work experience and on-the-job mentorship that will prepare you for a successful career. We partner with local colleges and the Department of Labor to create and register our Apprenticeship Programs. The programs focus on the development of soft skills and professionalism, and upon successful completion, you'll be equipped to take on roles as a world-class professional.
If you are a collaborative team player eager to learn, ready to take action, and have the willingness to put in the hours and dedicate your time to your education, then you are the perfect candidate for our apprenticeship program. 
Current Programs
Advanced Manufacturing Technician
Electromechanical Technician
Electrical & Automation Technician
Maintenance Technician
Process Controls
Refrigeration Technician
New Programs - in 2022, we are expanding our apprenticeship opportunities within Supply Chain to include skilled operators, and our first-ever professional and managerial level apprenticeships
Warehouse Apprentice
Customer Service Apprentice
Shipping and Receiving Apprentice
Transportation Apprentice
Warehouse Supervisor Apprentice
Nestlé Stories: Jessica
All In From the First Run: A Pole Vaulter Takes on a New Professional Challenge
Jessica first interned with Nestlé in the summer of 2019 as a Sales Intern, and returned in 2020 as a Commercial Development Intern supporting Nestlé's Baking Division. Learn how her experience in pole vaulting helped her embrace a spirit of 'going all in.'
Nestlé's Diversity Leadership Symposium
Are you a college student passionate about diversity, equity and inclusion? Are you looking for an exciting internship or full-time opportunity for 2023? Then apply for Nestlé's 2022 Diversity Leadership Symposium (DLS)! This event is an annual career accelerator program designed specifically for graduate and undergraduate students of diverse backgrounds. At this 3-day session, you will cultivate strong leadership and business skills through a variety of workshops, panel discussions, and break-out sessions focused on career pathing. If selected to participate, you will gain exposure to life and careers at Nestlé, connect with peers from universities across the nation, and interview for internships and full-time opportunities with a chance to return to school with a job offer in hand!
Applications for the 2022 Virtual Diversity Leadership Symposium (August 9-11) are now open. 
Available Internships, Apprenticeships, and Management Development Programs